Omaha, NE Constitutional Law Lawyers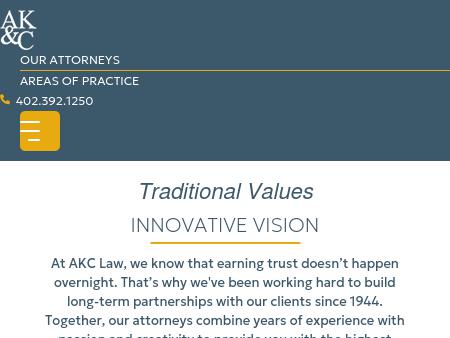 1.
Abrahams, Kaslow & Cassman LLP
Nebraska Corporate & Business Law Attorneys | Omaha, Nebraska Estate Planning and Trust Administ
Abraham Kaslow & Cassman LLP has provided over 60 years of comprehensive practical business answers for business in Omaha, Nebraska, and beyond. We care about you and your bottom line: 1-402-392-1250.
8712 West Dodge Road
Suite 300
Omaha
,
NE
68114
http://www.akclaw.com

2.
Tobin Wolfe Law, LLC
Divorce Lawyer Lincoln, NE | Child Support Attorney Lincoln, NE | Family Law Firm in Lincoln, NE
TOBIN WOLFE LAW, LLC is a client-centered legal practice servicing Lincoln,
Nebraska and the surrounding areas. Mr. Wolfe specializes in Divorce
Litigation, Mediation, Child and Family Law, and Criminal Defense.
Windsor Place
330 S 10th Street
Suite 200
Lincoln
,
NE
68508
http://tobinwolfelaw.com

3.
Law Office of Matt Catlett
Lincoln Nebraska Patent and Trademark Attorney | NE Family Law Criminal Personal Injury Copyright La
Experienced intellectual property attorney. Contact the Law Office of Matt Catlett, in Lincoln, Nebraska, for a free initial consultation.
701 P Street
Suite 207
Lincoln
,
NE
68508
http://www.catlettlaw.com
Omaha, NE Constitutional Law Lawyers